Sinking & Settling Foundation Repair Contractor Near Newton, Providence, Springfield
We can solve structural problems caused by foundation settlement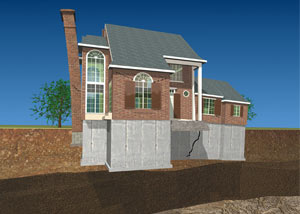 Foundation settlement and house movement can occur when a soil layer can't support the weight of the home.
Have you noticed cracks in your foundation walls, uneven floors, or sticking windows in your home? If these sound like problems you've experienced, you may have a sinking or settling foundation.
At DryZone Basement Systems, we fix foundation settlement issues by installing steel foundation piers. These piers will extend beneath the foundation, contacting strong supporting soils that will permanently stabilize your structure.
DryZone Basement Systems are your local experts for all types of foundation repair. Call us for a free foundation inspection and foundation settlement repair quote today! We serve Springfield, Providence, Newton and many nearby areas in Massachusetts and Rhode Island.
Identifying foundation settlement issues
Signs of a settling foundation can be very subtle at first -- many homeowners can go months or even years before noticing a crack in their foundation. The long-term damage from foundation settlement, however, is ongoing and will lead to more severe foundation problems.
Repairing foundation settlement
At DryZone Basement Systems, we recommend installing foundation piers to stabilize, repair, and restore a foundation that's been damaged by issues related to foundation settlement and poor supporting soils.
There are several different types of foundation piers that are designed to address each kind of foundation problem. We install foundation push piers.
Foundation Push Piers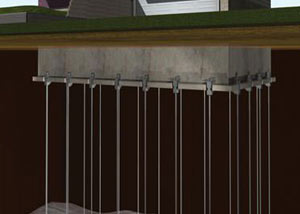 Push piers connect the foundation to strong, stable soil or bedrock. Foundation piers attach to the base of the foundation with special brackets and extend through settling and unstable soil layers, transferring the weight of your home to competent soils.
Foundation push piers are straight, steel piers that attach to your foundation and extend far below the structure to strong supporting soils. During the installation, a section of the foundation footing is exposed and cut to attach to each pier's bracket. This is possible year-round from either inside or outside of your foundation or structure.
Foundation brackets are secured to the footing, and tubular pier sections are hydraulically driven through each bracket. Pier sections continue to be driven downwards until the piers meet competent strata that can bear the weight of your home without compression.
When all push piers have been installed, they will work in unison to transfer the weight of the structure to the strong soils or bedrock below. If possible, the home is also lifted back to its original, level position.
More about installing foundation push piers.
We repair settling foundations in MA and RI!
At DryZone Basement Systems, we can identify and repair any issue you may be having with settling, sinking foundations, and settlement house movement. We have a wide variety of solutions for foundation repair that have been tested and proven effective throughout the United States and Canada through the Supportworks network of foundation contractors.
Each of our solutions starts with a free, written foundation repair quote, and includes a personal consultation with a foundation expert, an in-person inspection, and a free copy of our 90-page foundation repair book. To schedule an appointment with one of our specialists, call or e-mail us today! We proudly serve Springfield, Providence, Newton, Cranston, Taunton, Warwick, Brockton, Bridgewater, Plymouth, Amherst, and nearby.
Looking for a price? Get a no cost, no obligation free estimate.