Foundation Wall Repair Systems Near Newton, Providence, Springfield
Our wall stabilization systems will completely repair your foundation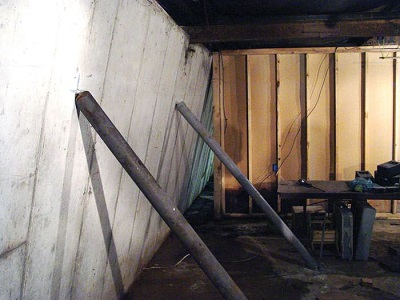 Protect your foundation. Your foundation is too important to take risks with, which is why we provide complete repair and stabilization solutions.
Do you have cracks in your foundation walls? Have you noticed bowing, buckling walls that aren't stable any longer? If so, you need a foundation wall repair system from DryZone Basement Systems. We provide a variety of options to fit your specific needs and restore your walls to a safe, stable condition.
Weakened foundation walls can have a significant impact on your home's stability and value, and it's essential to address these problems quickly and effectively. As experienced foundation repair contractors, we know how to restore your home to proper condition. Call us today at 1-855-622-4013 or click below to learn more about how we can help you. We offer free estimates in Springfield, Providence, Newton and throughout the surrounding areas.
PowerBrace™ Foundation Wall Repair System

The PowerBrace™ Wall Repair System is the ideal way to stabilize failing foundation walls. If you have walls that are bowing, buckling, or tilting inwards, installing a PowerBrace™ system can stop any further damage and potentially straighten the wall.

The PowerBrace™ consists of steel I-beams that are secured to the joists above the wall with steel brackets. This system is easily adjustable, allowing for tightening of the brace to attempt to raise the wall back to its original position. This system doesn't involve any exterior excavation and installs quickly with minimal disruption to your basement space.
Call for a free foundation repair estimate
If you have issues with bowing, buckling, or cracked foundation walls, DryZone Basement Systems has the solutions you need to stabilize your home's foundation. Our experienced foundation professionals will carefully evaluate your home and work with you to determine the best solution for your needs.
If you're interested in foundation wall repair services, give us a call today at 1-855-622-4013 or contact us online to get started with a free estimate. We offer all our foundation repair products in Springfield, Providence, Newton, Cranston, Taunton, Warwick, Brockton, Bridgewater, Plymouth, Amherst and throughout the surrounding areas.
Looking for a price? Get a no cost, no obligation free estimate.